learn
About the
Culinary Business Industry?
Today's global food & culinary industry is offering a variety of generous opportunities as well as fierce competition. According to the U.S. Bureau of Labour Statistics for 2016 – 2017 employment of chefs and head cooks is projected to grow 10 percent from 2016 to 2026, faster than the average for all occupations. Most job opportunities for chefs and head cooks are expected to be in food services, including restaurants.
Euromonitor puts the global consumer food-service business–everything from cafés and fast-food chains to full-service restaurants–at $1.85 trillion. But with many restaurants operating on a cash basis, even in the U.S., the true value of this industry is hard to pin down.
Despite these difficulties in measuring the absolute size of the food business, nearly everyone agrees: The sector is growing at an astonishing pace. Clearly, there is a great need for professionals who have the expertise and business knowledge to identify, market, and develop profitable business enterprises in the food industry.
Our degree provides a firm foundation in culinary techniques, leadership, management knowledge/skills and entrepreneurial know – how to allow TASTE Academy's graduates to build a successful career in this thriving industry.
Students gain hands-on experience in a food business work environment through two internships whilst also developing their academic, practical and soft skills.
Graduates will be prepared to blend vital business management skills with their passion for food and enter a variety of management careers in the culinary business industry, including:
Find here more details about the potential career outcomes and working environments for the graduates of our program.
With so many possibilities, our Career Services staff is ready to help you every step of the way.
✓ Restaurants
✓ Hotels
✓ Airlines
✓ Business management or finance
✓ Communications, public relations, and marketing
✓ Entrepreneur or restaurant owner
✓ Food management or operations
✓ Product development
✓ Food production and management
✓ Self-branding / influencer / vlogger
career
Why choose
a career in the Culinary Industry?
The world of food and food preparation is fit for those individuals who appreciate the opportunity to make their love of ingredients, flavors and food preparation their career option. You should be:
Timeline
Bachelor of Arts (Hons)
International Culinary Business Management
Career development while studying at TASTE Academy
Discover career development stages that you will go through while studying. Each stage prepares you for your next career step.
Locate the stage you should be at and make your personal plan / take advantage of the opportunities offered by the School.
Find out what you need to do in order to grow professionally!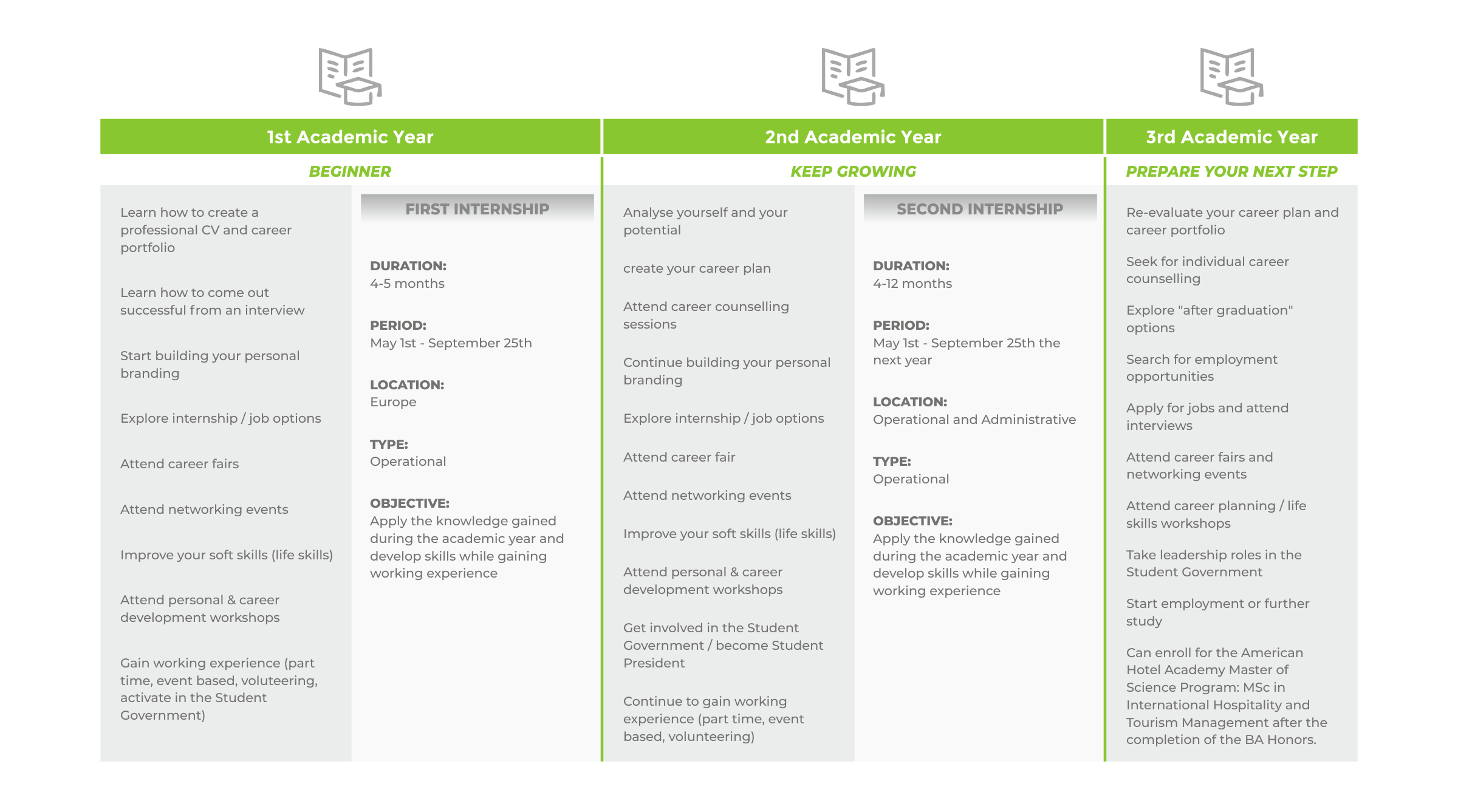 ladder
Career ladder
Career ladder
An example of career steps for the position of Executive Chef/ Culinary Business Owner. Depending on your dream career (career outcome) and where you see yourself working (work environment), the steps of the ladder can change. Find more details about the potential outcomes in the culinary business industry and the environments in which you can work. – HERE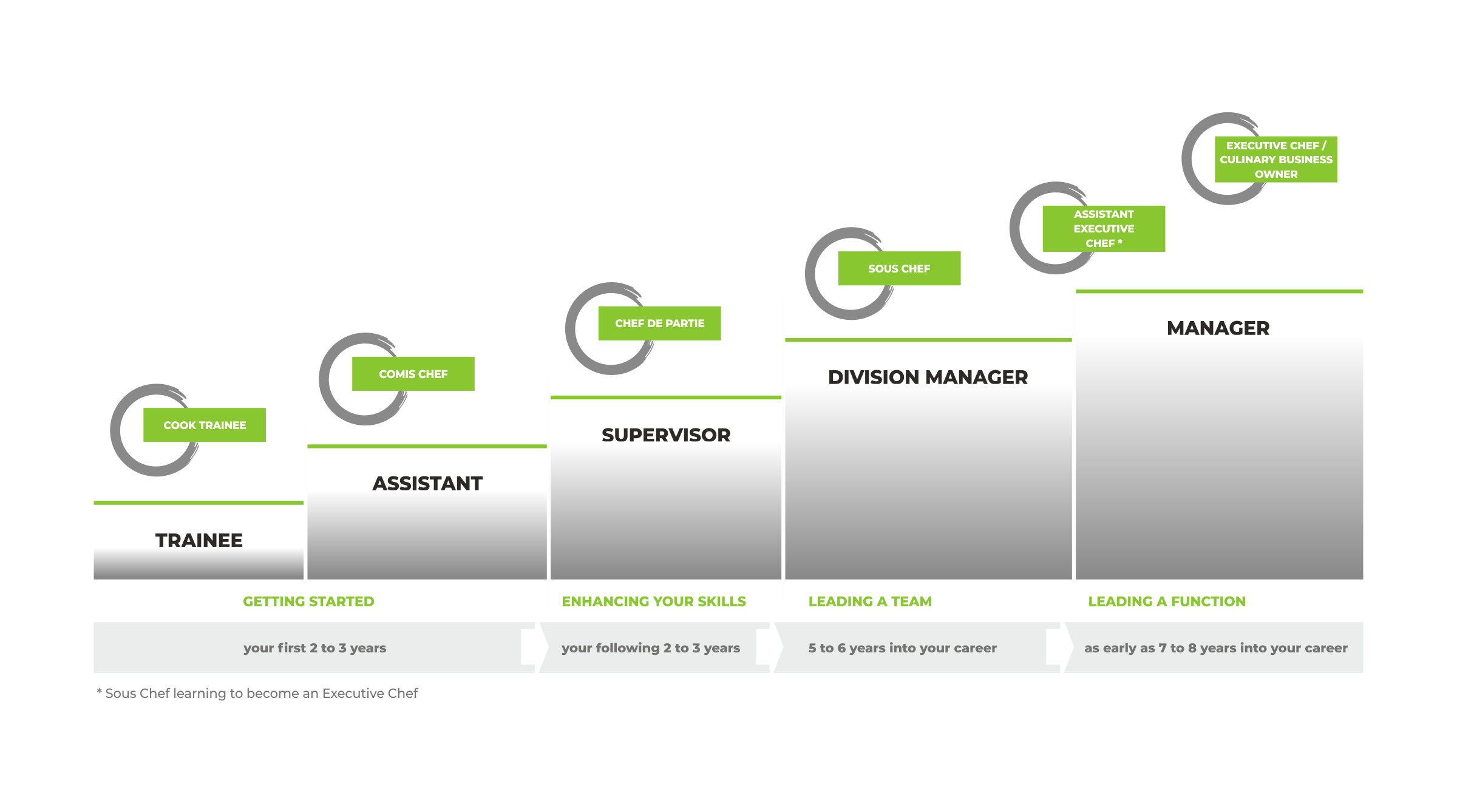 career
Career outcomes
Career opportunities in the Culinary Business Industry are various in type and can be embraced by following this program, depending on the student's individual needs/skills and personality. We offer a personalized career coaching to help you advance your career, through the designated career team in the Student Services Office.